---
Robert Capa
American photographer

Born Endre Erno Friedmann to Jewish parents in Budapest in 1913, he studied political science at the Deutsche Hochschule für Politik in Berlin. Driven out of the country by the threat of a Nazi regime, he left the country in 1932 after being arrested because of his political involvement and settled in Paris in 1933

In 1934 he was represented by Alliance Photo and met the journalist and photographer Gerda Pohorylle, a German Jewish refugee. The couple lived in Paris where Capa taught Gerda photography. Gerda took the name Gerda Taro.
Together, they invented the 'famous' American photographer Robert Capa. He adopted the name "Robert Capa" around this time because he felt that it would be recognizable and American-sounding (In fact, "cápa" is a Hungarian word meaning shark).

Robert Capa began to sell his prints under that name. He met Pablo Picasso and Ernest Hemingway, and formed friendships with fellow photographers David 'Chim' Seymour and Henri Cartier-Bresson.

Gerda Taro traveled with Capa to Spain in 1936 with the intention to document the Spanish Civil War.
From 1936 to 1939, he was photographing the horrors of the Spanish Civil War. He said "If your picture isn't good enough, you're not close enough.".
In 1936 he became known across the globe for a photo he took on the Cordoba Front of a Loyalist Militiaman who had just been shot and was in the act of falling to his death. In July 1937 Gerda Taro was killed near Brunete during a battle.

After Spain, Capa travelled to China in 1938 and immigrated to New York a year later. In fleeing Europe in 1939, Capa had lost the collection, which over time came to be dubbed the "Mexican suitcase".

As a correspondent in Europe, he photographed the Second World War, covering the landing of American troops on Omaha beach on D-Day, the liberation of Paris and the Battle of the Bulge.
His most famous work occurred on June 6, 1944 (D-Day) when he swam ashore with the second assault wave on Omaha Beach. Capa took 106 pictures in the first couple of hours of the invasion. However, a staff member at Life made a mistake in the darkroom; he set the dryer too high and melted the emulsion in the negatives. Only eleven frames in total were recovered.

In 1945 Capa became the lover of actress Ingrid Bergman who was travelling in Europe at the time entertaining American soldiers. In December 1945, Capa followed her to Hollywood where he worked for American International Pictures for a short time. Bergman tried to persuade him to marry her but Capa didn't want to live in Hollywood. Their troubled romance was immortalized by their mutual friend Alfred Hitchcock in Rear Window. The relationship ended in the summer of 1946 when Capa travelled to Turkey.

In 1947 Capa founded Magnum Photos with Henri Cartier-Bresson, David Seymour, George Rodger and William Vandivert. In 1951, he became the president of Magnum Photos.

In the early 1950s, Capa traveled to Japan for an exhibition associated with Magnum Photos. While there, Life magazine asked him to go on assignment to Southeast Asia, where the French had been fighting for eight years in the First Indochina War. Despite the fact he had sworn not to photograph another war a few years earlier, Capa accepted and accompanied a French regiment with two other Time-Life journalists.

On 25 May 1954 he was photographing for Life in Thai-Binh, Indochina, when he stepped on a landmine and was killed. The French army awarded him the Croix de Guerre with Palm post-humously.

The Robert Capa Gold Medal Award was established in 1955 to reward exceptional professional merit.



Loyalist Militiaman © Robert Capa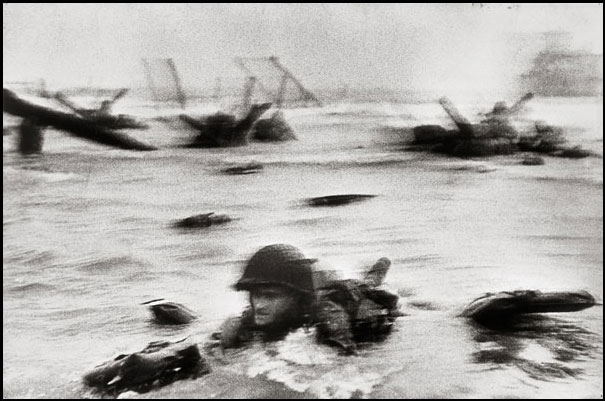 Omaha beach on D-Day © Robert Capa

actress Ingrid Bergman © Robert Capa

spanish refugees © Robert Capa

Liberation of Paris © Robert Capa

Paris © Robert Capa

© Robert Capa

writer Ernest Hemingway © Robert Capa

painter Pablo Picasso © Robert Capa
---
---