---
Richard Avedon
American photographer

Avedon was born in New York City to a Jewish-Russian family. He started as a photographer for the Merchant Marines in 1942, taking identification pictures of the crewmen with his Rolleiflex camera given to him by his father as a going-away present. In 1944, he began working as an advertising photographer for a department store, but was quickly discovered by Alexey Brodovitch, the art director for the fashion magazine Harper's Bazaar. Lillian Bassman also promoted Avedon's career at Harper's.
.
In 1946, Avedon had set up his own studio and began providing images for magazines including Vogue and Life. He soon became the chief photographer for Harper's Bazaar. Avedon did not conform to the standard technique of taking fashion photographs, where models stood emotionless and seemingly indifferent to the camera. Instead, Avedon showed models full of emotion, smiling, laughing, and, many times, in action.
.
In 1966, Avedon left Harper's Bazaar to work as a staff photographer for Vogue magazine.
.
In addition to his continuing fashion work, Avedon began to branch out and photographed patients of mental hospitals, the Civil Rights Movement in 1963, protesters of the Vietnam War, and later the fall of the Berlin Wall. During this period Avedon also created two famous sets of portraits of The Beatles. Among the many other rock bands photographed by Avedon, in 1973 he shot Electric Light Orchestra with all the members exposing their bellybuttons for recording, On the Third Day.
.
Avedon was always interested in how portraiture captures the personality and soul of its subject. As his reputation as a photographer became widely known, he brought in many famous faces to his studio and photographed them with a large-format 8x10 view camera.
.
He is also distinguished by his large prints, sometimes measuring over three feet in height. His large-format portrait work of drifters, miners, cowboys and others from the western United States became a best-selling book and traveling exhibit entitled In the American West, and is regarded as an important hallmark in 20th Century portrait photography, and by some as Avedon's magnum opus. Commissioned by the Amon Carter Museum in Fort Worth, Texas, it was a six-year project Avedon embarked on in 1979, that produced 125 portraits of people in the American west who caught Avedon's eye.
.
Avedon was drawn to working people such as miners and oil field workers in their soiled work clothes, unemployed drifters, and teenagers growing up in the West circa 1979-84.
.
Avedon became the first staff photographer for The New Yorker
.
On October 1, 2004, Avedon died of a brain hemorrhage in San Antonio, Texas, while shooting an assignment for The New Yorker.
.





Dovima with Elephants, Evening Dress by Dior, Cirque d'Hiver, Paris, France
© Richard Avedon
Sandra Bennet, 12 years old, Rocky Ford, Colorado 1980
© Richard Avedon
Evelyn Avedon, wife of Photographer, New-York City, July 23, 1975
© Richard Avedon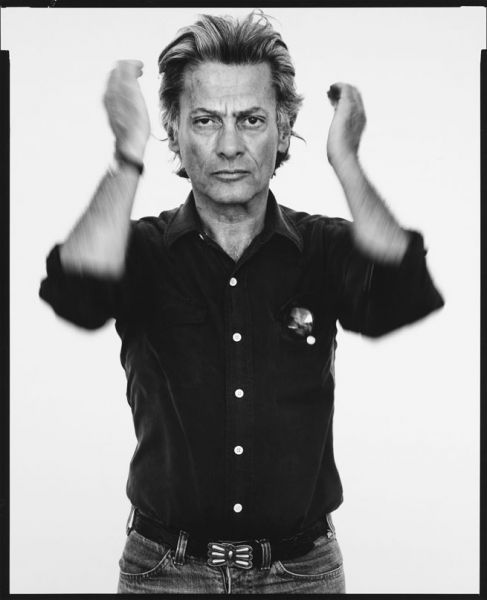 Autoportrait, Provo, Utah, August 20,1980
© Richard Avedon
Ronald Fischer, beekeeper, Davis, California, May 9, 1981
© Richard Avedon
Marilyn Monroe, actress, New-York, May 9, 1957
© Richard Avedon
---
---