| | | |
| --- | --- | --- |
| | Military Drones (Unmanned Aerial Vehicles) | |
Military UAVs
A soldier holds a PD-100 mini-UAV during the PACMAN-I experiment in Hawaii. - Individual PD-100 Equipment for soldier.


Besides the Predators and others Reapers, large unmanned aircrafts, the US Army uses also, as the CIA do, a small UAV called PD-100 "Black Hornet". It is a nano-UAV developed by the Norwegian company Prox Dynamics, a subsidiary of FLIR, an US company. Its features and performances make it ideal for a glimpse of a tactical situation or even exert monitoring movements of an opponent in any discretion, especially in urban areas.

Weighing only 25 grams in charge, the Black Hornet is 16 cm long (hence the name "nano-UAV"). It has an autonomy of 20 to 30 minutes and can flight at a speed of 5 meters per second at 10 meters high, it has a chemical or thermal sensor and 3 high resolution cameras: one attached to the front, a second permitting rotation of 45° and a third film for the floor. Recently, an infrared sensor may replace one of them for night missions. It is both very handy and discreet thanks to its electric motor and small size. It can be controlled manually or used in autonomous mode with its autopilot associated with an artificial intelligence taking into account objects, faces or specific situations to adapt his flight profile to the mission.The Version 3 can now evolve without having a GPS connection. It is charged about $ 46,000.

In Afghanistan, it has been used successfully by the British military for the recognition of enemy fighters hidden in a building. It is estimated that some 8,000 units were manufactured and that the Black Hornet is used by thirty countries. The Black Hornet 3 already equips the US and Australian armies. Since 2016, the French army has equipped its troops participating in Operation "Barkhane" in the Sahel and Sahara Black Hornet models of previous generation and the French army ordered now Black Hornet model 3 for $ 89 million.
---
armed Reaper UAV


Use of UAVs increases in recent years and is now on the way to being used in all the world's armies and may be also by terrorist organizations.
Use of this new form of weapon provokes many debates on their legality or as new component of dehumanized war. Like all new techniques that improve killing at distance, It is more controversial because this decision to kill could eventually not be taken by men but by a programmed system (AI).

Read the excellent web paper part 1 part 2 of Léonard Lifar in "Les Yeux du Monde".

---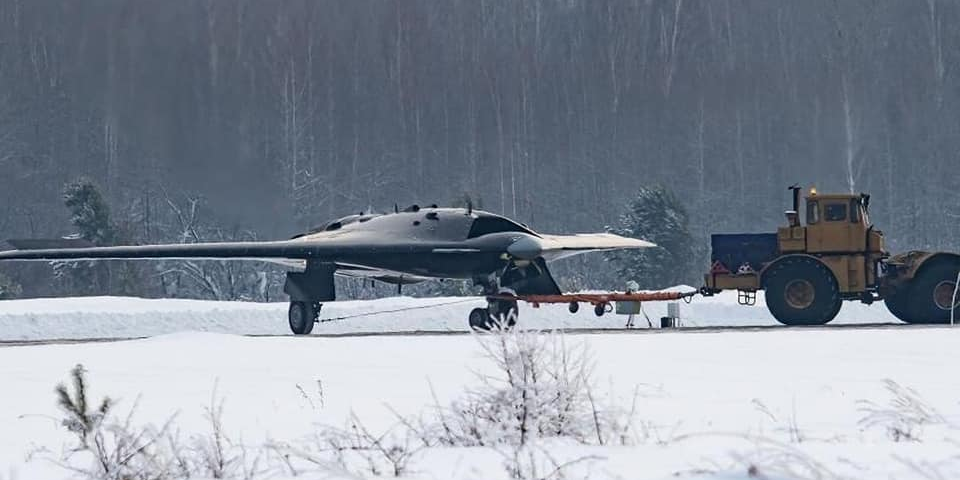 drone russe Okhotnik


The new Russian heavy combat drone Okhotnik , with a mass of about 20 tons, developed by Sukhoi in collaboration with the MiG aircraft construction, will have several missions to accomplish, including the breakthrough of the enemy DCA.
Acting alongside the fifth-generation Su-57 fighter, Russian heavy-combat drone Okhotnik is set to break through the enemy's DCA, Russian media reports said. One of the drone's missions will be to break through the air defense to allow the pilot aircraft to enter, each Su-57 should fly with several drones. The Su-57 crew will be able to control the Okhotnik to allow both aircraft to fly synchronously.
The drone will be tested in flight in spring 2019, as announced by Russian Deputy Minister of Defense Alexei Krivoruchko.

---
| | | | | |
| --- | --- | --- | --- | --- |
| the Chinese Wing Loong UAV | | nEUROn : the European demonstrator UAV | | RQ-170 Sentinel Unmanned Aerial Vehicle |
The Chinese Wing Loong UAV is a combat UAV (MALE) developed by the AVIC firm that looks like the American MQ-9 Reaper but with ammunition carry limited to four points of attachment. It is less efficient than its Western counterparts, particularly in terms of its monitoring and recognition systems, but is also much cheaper. The firm already has clients from the Middle East, including Saudi Arabia and Iran.
A new version was presented at the Paris Air Show in 2017, the Wing Loong II can carry a total mass of 4.2 tons. It has six points of transport to carry air-ground and sea missiles and bombs.

France will arm five of its six MQ-9 Reaper UAVs. In addition, the French Navy is interested in the potential of a future combat UAV embarked on an aircraft carrier via the demonstrator nEUROn . This UAV is 9 meters long with a wingspan of 12.5 meters and a mass of 7 tons. It is the first European UCAV, with two bunkers each designed to house a 250 kg bomb. It is the fruit of a cooperation led by France and Dassault Aviation as prime contractor, with five partner countries and their manufacturers.

The Lockheed Martin RQ-170 is an American reconnaissance UAV, with a design similar to the nEUROn, flying since 2009 in the operation theaters in Afghanistan, Korea and Iran. One of these stealth UAVs was "captured" on December 4, 2011 by Iranian forces.

pierre j.
---
some military UAVs
---
---